Hillside Daylilies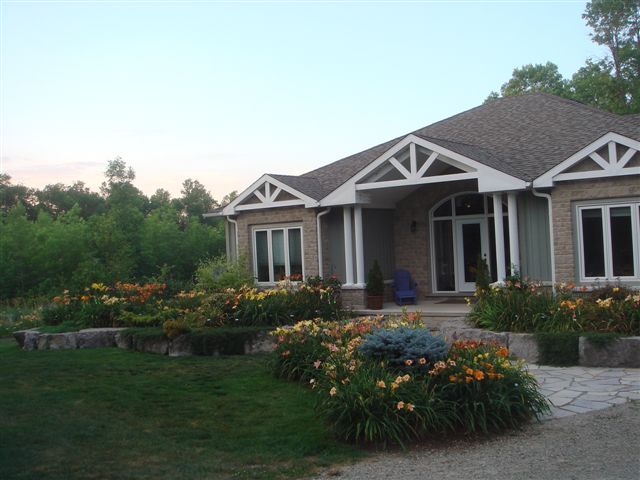 Welcome to the new Hillside Daylilies! After nearly 13 years on the outskirts of Guelph Ontario during which time I developed an interest / obsession with daylilies, Kim and I made the decision to move. Kim wanted more privacy as a golf course was going in behind us and I had to admit that the idea of finding a location that had some flat land with real soil (that did not need to be trucked in) was very appealing. While I dreaded the idea of moving house and garden the opportunity to get away from the gravel moraine we were on could not be resisted.
Wanting to stay in the same general area we were fortunate to locate a 2.5 acre property about a 10 minute drive away on a quiet road with good rich soil ready to build a new home. We purchased the land in the fall of 2008 and arranged for a modular home to be built and delivered in the spring of 2009. However the economic downturn arrived with a vengeance so we owned two properties for much of the year and finally moved into the new house at the end of October.
Moving a garden is an amazing challenge both physically and mentally. I had the support of many friends and volunteers to help dig and transport the plants to the new property. Re-planting them on the other hand was more of a one-person effort. On the mental side it was questions about which plants make the move and which to leave behind? Garden design and where to locate each plant? Colour schemes, theme gardens, hybridizer collections - so many decisions! I estimate that around 2,500 daylilies plus other perennials, shrubs, trees and bulbs were moved and replanted although it took well into November to get the job done!
While I have always had daylilies in the garden it was the summer of 2000 when I was first introduced to the world of modern hybrid daylilies and immediately made my first crosses. The following spring I joined the Ontario Daylily Society and the American Hemerocallis Society and have not looked back. My hybridizing efforts have increased progressively each year and who knows what will happen now that I have a bit more space! Some of my surplus seeds find their way to the Daylily Auction where I go by the user ID of dwm.
In terms of hybridizing goals I am pursuing a few different areas. From early on, one of my goals has been to produce a spotted daylily. I have yet to achieve that goal but have lots of speckled and some interesting patterned things. More recently I've focused on Extra-Early blooming tets in an attempt to improve the look of EE cultivars while blooming about the same time as Stella D'Oro. Beyond these goals I'm working on flowers with toothy edges and above all just good plants with northern hardiness and superior plant performance.
I am a big fan of the plants introduced by the late Brother Charles Reckamp who was based in Techny Illinois. Brother Charles was one of the first hybridizers of tetraploid daylilies. His lines were highly inbred and he is credited with producing some of the first gold edges. Out-crossing these plants to the work of others will often result in hybrid vigour, producing some exceptional plants. In particular many of his later introductions have rarely been used and I believe have untapped hybridizing potential.
Another favourite hybridizer is Oscie Whatley whose garden was near St. Louis, Missouri. Oscie bred for distinctive, clear coloured flowers on vigorous growing plants. His lines have unique genetics as he made and used his own tetraploid conversions for breeding. His plants are well represented in my collection and I continue to breed with them.
I look for plants that have great colour and perform well in my climate and therefore tend to favour the work of northern hybridizers. Bryan Culver, long time member of the Ontario Daylily Society and one of Canada's leading daylily hybridizers has been both a friend and mentor to my fledgling efforts giving freely of his time, knowledge and plant genetics. Friends, Mike Georges and Gil Stelter who have excellent daylily gardens and breeding programs nearby have also mentored and enabled my interest in daylilies. A few other northern hybridizers prominently represented in my garden include Melanie Mason, Curt Hanson, Steve Moldovan, Richard Norris, John Rice and Gary Schaben. My climate is CDA zone 5b and USDA zone 4-5.
Thanks for looking at my website. Please feel free to forward any questions or comments. You can reach me at david.mussar@sympatico.ca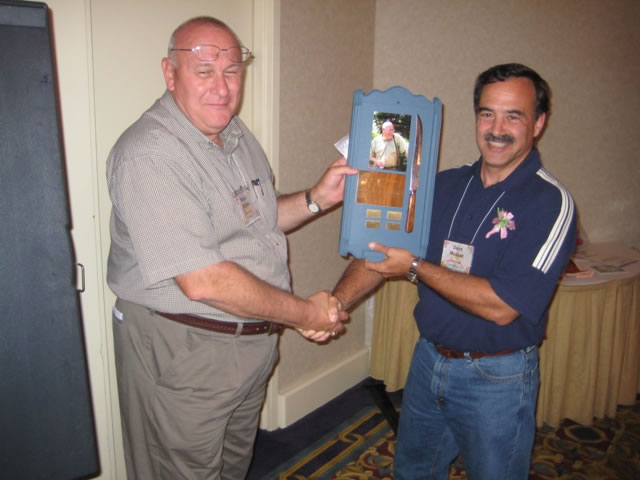 Here I am receiving the Bryan Culver ODiuS Award from Bryan (on the left) at the ODS Fall Classic meeting in 2008. It was a fun award that had its genesis on the bus trip to the Regional tour that summer.
All the best!
Dave
---
This page was last updated on 2012/12/31.