Queen Of Floof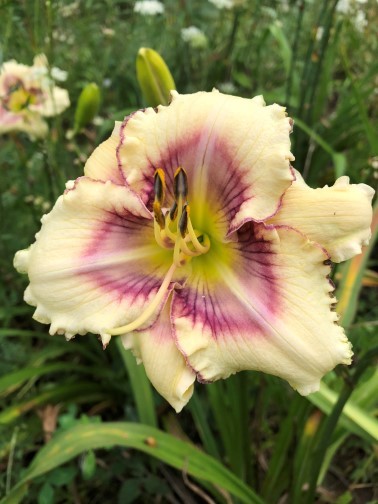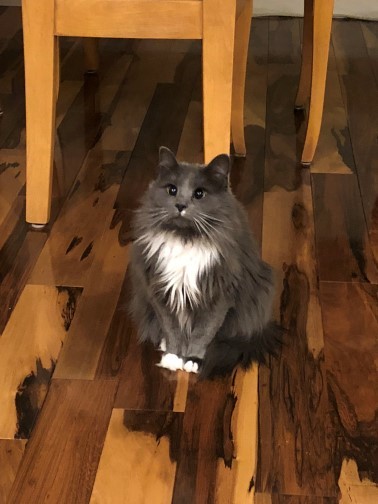 Perhaps the most awaited of my 2019 registrations, Queen Of Floof.
This is named to honour Helen the Queen of Floof who is an internet sensation and has a dedicated and loyal following. I had the opportunity to stay with Helen's caretakers, Shanny and Peter Donato and had an audience with the Queen. Helen is blind but still rules the roost. She is incredibly soft and floofy! I was humbled that she deigned to sniff my hand and the following morning rubbed up against my leg during breakfast. She may have thought it was the table but I was humbled none the less!
Queen of Floof, the bloom is 5.5" on scapes 26" tall with 3 way branching and about a dozen buds. It was in an area where it got minimal care and was only watered by mother nature so I expect that it will do better elsewhere. The blooms are a cream to near white with a triangular eyezone with rings of various shades of dark orchid, to violet to orchid with darker veins. There is a fine orchid edge to the petals as well. The plant is a tet, an early to mid-season bloomer with semi-evergreen foliage. It is from a cross of (Huckleberry Candy x Vertical Horizon) X (Huckleberry Candy x Istanbul Magic). While shorter than I usually prefer this plant is remarkable for the consistency of the patterning in the blooms which is needed in the north. I hope that it will be a fitting tribute to the Queen of Floof. Very limited supply.
$100 / SF