Hillside Bright And Early (Mussar, 2013)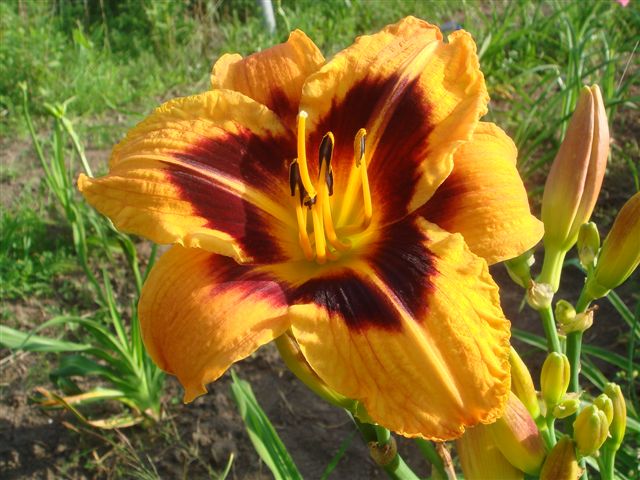 Another of my breeding goals has been to produce extra-early blooming tets that would bloom around the same time as Stella D'Oro but would be taller, larger and much more colourful flowers. That means they would start blooming in mid-late June in my zone 4 - 5 garden.
Hillside Bright and Early is another step forward in this direction. The 5" bright gold flowers have dark raspberry red eyes. The scapes average about 30" tall with 2 lateral branches plus a top V carrying about 16 buds each.
Parentage is my Hillside First Impressions x a seedling (600A Saratoga Springtime x Regal Shield). Hillside First Impressions was one of my 2012 EE intros. Saratoga Springtime is one of the first tets to bloom in my garden every year while Regal Shield was the first kid that Richard Norris introduced out of Clarification so you know where the good clear colour comes from! The flower form is not the most modern and the picture could be better but in the very early season I'm happy to see daylilies that are not just yellow! Foliage is semi-evergreen. Registered 2013. Tetraploid. $75 (double fan).